What's God Been Doing in Your Life?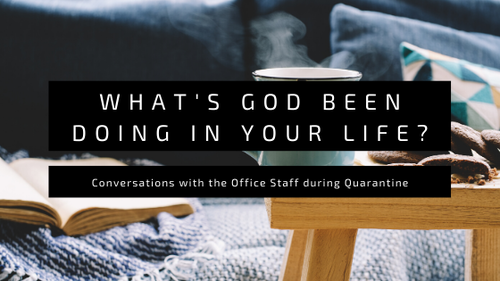 We want to know: What has God been showing you these days? Check out some of our reflections on how God is working in our lives over the past few weeks.
Justin: The book of Joshua has been one of my favorites since college. Reading about how Joshua continued to trust God and be strong & courageous in the midst of uncertainty has been encouraging for me in this season.

Callie: Since we've been going through 1 John as a staff, I've been meditating a lot on the word "abide" and specific ways Jesus asks me to engage with Him. I've been trying to lean heavily into what it looks like for my coming and going, my eating and sleeping, my relationships and work to be embedded in Him.

Rebecca: I've enjoyed looking at the gospel of Matthew.

Carly: Revelation! Remembering who is on the throne & that Jesus conquers!

Rachel: I have been reading in Acts during the past 2-3 weeks. Just really reading chapters over and over again. Using different versions as well. Just really appreciating the church in Acts, thinking about how there were no 'mature' believers yet.

Jordan: Ephesians 1 and 2
Justin: Being a planner, it is hard not to be learning patience and trust in a time where planning is impossible. I like to be in control of how my days and weeks go, it is easy for me to trust my own plans instead of pushing into trusting the Lord. My hope is that on the other side of this I will be able to apply lessons of trusting God one day at a time, and not return to the temptation to depend on my own plans and strength.

Callie: For me during the past few weeks, my brokenness and God's goodness has been magnified. I feel more aware of my sin, anger, anxiety, and need for control more than ever, but also feel more sensitive to God's kindness toward me and His generosity in my life.

Rebecca: I've been reading biographies of women missionaries like Elizabeth Elliot and Corrie Ten Boom. I really admire their steadfastness and obedience and it's been a huge encouragement to me and my faith walk.

Carly: I have been thankful for the Lord being gracious to remind me that this is not our home. There are so many things turned upside down, so easy to have fear creep in with unknowns, and so much pain that people are experiencing through this whether financially, physically, emotionally, or socially. It's been easy for me to lose hope and feel trapped in this being all we have in life, but what we have in life, what I can hope for in life is that we are promised, as children & heirs, an eternity that is perfect. With no pain, sickness, tears, death. If what's happening around me regarding the worlds brokenness and my brokenness that comes in many forms, was all I had to hope in for life I would simply be hopeless. Praise God that he is preparing a place for us that we will enjoy and worship Him in forever!

Rachel: Thinking about the disciples in Acts, everything in their faith was new. They were learning more and more about Jesus from each other and the Holy Spirit was here with them as their helper in the faith. No matter how long in the faith we have believed, whether it's 2 months or 2 decades, God continues to show Himself to us. He is the same from the 1st Church to now, our Savior.

Jordan: God has instilled practice within me about cautiously and consistently being thankful for everything we have and continue to have on a daily basis. I noticed at the beginning of COVID, I was thinking things like "poor me" because I couldn't walk for college graduation or finish out my senior year. But Ephesians 1 and 2 are encouraging and explain God's power, thanksgiving, being alive in Christ, and unity which has been a rock for me during COVID
Justin: I am sure everyone could say community has been challenging. Carly and I started going to a new church just a few weeks before services had to be cancelled. Participating in online services and virtual small groups has been more challenging as we do not have deep and established relationships. However, this has made us more thirsty for depth and excited to jump in fully when we are allowed to return!

Callie: It's been challenging for me to stay in the moment, and let today's worries be enough for today. I have a tendency to worry about what is coming next, but this season has given me plenty of opportunity to surrender that. But it is easy to indulge anxiety and stress right now and can be hard to stay focused on the moment.

Rebecca: It's been challenging for me to not be in the office with all my favorite people (and dogs).

Carly: A challenge I have faced through this time has been heartbreak for those I care about that are walk through difficult times because of this. Loved ones affected by COVID-19 from getting the virus, stress from all of the information surrounding the virus, anxiety with all of the lifestyle changes because of the virus. This has been a challenge for me to encourage and love those who have been in difficulty, when as a family we have also had similar experiences and challenges.

Rachel: I have been challenged in my walk by wanting to spend more time just being outside and really appreciating what God has given us when we don't have other things like shopping malls, movie theaters, or concerts. Since I have had more time with the Lord in quarantine, I have been challenged specifically by Acts 4:13 which says, 'Now when they saw the boldness of Peter and John, and perceived that they were uneducated, common men, they were astonished. And they recognized that they had been with Jesus.' That last sentence is my prayer that when others see me, they see that I have been with Jesus more during this time.

Jordan: I have faced the challenge of graduating college during this crazy time and moving during this time. I was not able to walk for graduation and that was a little difficult to process after all of the hard work put into my degree. Also, moving to a new area is challenging alone and moving to a new area during COVID has been difficult.
Justin: Probably the last Star Wars being released on Disney+ early! But in all seriousness the breaking of normal routines which has forced me to reassess everything.

Callie: Something that's been a blessing has been very simple pleasures that I'm able to really enjoy in the slower pacing of quarantine. A morning coffee, reading a book, sitting on the porch have all been life giving and something I hope I can continue to appreciate after this!

Rebecca: I am grateful for being able to stay connected through technology while being distanced- especially with my small group.

Carly: I am so grateful for God's presence! I am so grateful that He has blessed us with the Holy Spirit to dwell in us at every moment with such closeness and intimacy! This has brought me great joy through these challenges, that I am not alone, that He is the ultimate comforter, that His word is always ready to speak truth to me, challenge me, encourage me, convict me, and that He reminds me (and helps me more than I know!) to keep my eyes fixed on Jesus. He is the one that is perfecting our faith through it all! "Consider it pure joy, my brothers, when you face trials of many kinds, for you know that the testing of your faith produces steadfastness. Let steadfastness have its full effect that you may be perfect & complete lacking in nothing." James 1:2-4

Rachel: Most days, I am so grateful for this extra time at home in quarantine to be able to journal and draw Scripture art. I'm excited to see what else the Lord is going to do through others and through me. May I not be the same as I was pre-quarantine, because I have been with God more.

Jordan: I was grateful for time to focus on relationships and enjoying time with family. I had the unexpected joy of a gift of time with my family before moving away from home to begin my career.