Katie's Reflections on Missions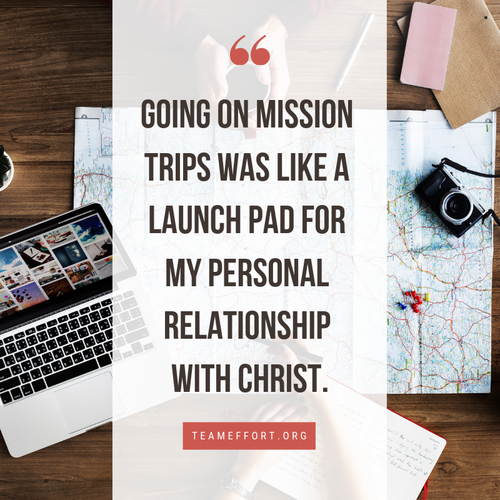 First of all, let me introduce myself! My name is Katie Hansford, and last summer I spent one of the wildest summers of my life serving on the staff of TEAMeffort in
Copperhill, Tennessee
leading mission trips for teens. It was a summer that personally challenged me in more ways than I have time to express in this post, but as anyone who has ever been involved in missions will tell you: it is one of the most demanding, and most rewarding experiences you can ever take part in.
I had the blessing of getting to grow up in a home that was very mission-oriented. It wasn't uncommon for me and my sister to skip school to help my mom run the local food pantry in our small town in Texas. And it wasn't unusual for my dad to leave for a week or two at a time while he traveled with different ministries all across the southern United States. It was always exciting to hear the stories he would bring home about different projects he had worked on, or people had seen accept Jesus as their Lord and Savior.
After graduating high school, I was really at a loss as to what to do next. I wasn't sure if college was for me or not at that time and the pressures of our modern society were really weighing on me. So with my heart heavy I asked God what He would have me do in that season of my life, and after a lot of seeking, I felt like I was being tugged in a different direction than all of my friends and I had the desire to go and spend some time serving the Lord (even though at that time I wasn't sure what that was going to entail). And after that prayer, and with the example my parents had set for me, it felt natural as I started to explore every opportunity in missions that came my way.

That prayer in 2016 lead me on a journey that took me to: Houston, Texas; San Antonio, Texas; G'dansk, Poland; then back to Texas in the city of Arlington; then back to Europe to Monzon, Spain - all back to back in a single summer. Each one of those trips lasted one or two weeks, and let me tell you, that was one of the busiest, most hectic, summers of my life! I wish I had time to dive into some of the testimonies from then, like how God fully funded the trip to Spain in two weeks, or about the first person I got to lead to Christ in Poland, or touch on some of the lessons I learned while in Texas - because although it was one of the best summers I've experienced as a Christian, there was a LOT of trial and error that taught me a LOT about short term missions.

Those lessons laid a foundation for that the Lord continues to work on, because since then the Lord has opened doors and provide the finances for me to be involved in missions and ministry: I've spent a summer in Cambodia, worked with several different ministries, spoken at different churches about missions, and God has helped me to grow spiritually since I first prayed and took that first leap. But looking back, there was so much I didn't know as I went into that summer of 2016 and I was at times severely underprepared, so when I was asked to write this post, I decided to list out some things I wish I had been prepared for, and maybe save you from going through some of the things I did!


1. Be prepared to be flexible (a.k.a not having a clue what the plan is or what's going on and being ok with it):
I'm a planner. I like to have a plan and know what to expect so I can mentally have a map of what I need to do. Well, that's not how most mission trips work. A prime example is when I was in Spain: I was part of an evangelism team of about fifty people, only ten of which were Americans who spoke fluent English…. and I don't speak much more Spanish than what I can read off the menu of a Mexican restaurant. Every team meeting we had was in Spanish, our schedules were written in Spanish, our worship services were in Spanish - so long story short, I had literally no idea what was going on 99.9% of the time. Which was challenging for me, because again, I'm a planner.

God stretched me a lot during this time and I learned that if you want to get the most of out your trip and serve the most efficiently, you have to let go of control. Which can be so difficult to do, but once you "let go and let God", you will start to see the Lord use you in more ways, and you will also find yourself enjoying the experience more.


2. Be Prepared to be uncomfortable:
As Americans, we live in one of the most comfortable societies in the world. In fact, over 102 million people in America qualify to be considered in the top 10% of the wealthiest in the entire world. So when we are taken out of our comfort zone and dropped into the middle of what we're not used to, it doesn't matter how much of a spiritual giant you might be walking into your mission field, it can be startling to find yourself in a situation you aren't used to or familiar with. I want to point out that those feelings are perfectly ok and natural, but dealing with those feeling calmly and quickly adopting the right perspective will help your trip go a lot smoother.

I remember going to Cambodia and getting the lovely surprise of realizing that our "bathroom" was nothing more than a hole in the ground. That took some adjustment!

But most recently I found myself in a run-down mission in northern New Mexico this past January. They didn't have efficient heat and I remember waking up one morning to it being -15 below zero, and realizing that I couldn't feel my face. I laid there for awhile slapping and massaging my face, trying to get some blood flowing, and questioning if it was all worth it. (Spoiler alert: it was)

Whenever I've been confronted by situations like these, I've always gone back to Matthew 8:20 to shift my perspective: "And Jesus said to him, 'Foxes have holes and birds of the air have nests, but the Son of Man has nowhere to lay His head."

During Jesus ministry, He was literally walking miles and miles across Israel, sleeping outside, and being ridiculed by the religious leaders. He was born in a barn of all places, and died in a cruel and horrific way to save us. When I spend some time pondering those things, it makes it difficult to have a poor attitude toward whatever circumstances I'm facing. Jesus will never ask you to do anything that He Himself wouldn't be willing to do.


3. Be prepared to be under-prepared:
As I mentioned earlier, I got the joy of getting to be on the
summer staff
of TEAMeffort last summer leading mission trips for teens. What I didn't mention is that I didn't know a thing about construction before that summer.
IT IS OK to not be an expert in construction or evangelism or ministry when you go on a mission trip. Not a single one of the original twelve disciples Jesus called had a CLUE what they were doing in the beginning while they followed Him. Jesus called and continues to call those of us who feel the least pre-prepared. A lack of experience doesn't disqualify you from serving (It also doesn't give you a way out of being called to serve either).
There's also a good chance that you may be presented with opportunities or needs may arise that are going to push you out of your comfort zone to do things you have never done before: GO FOR IT! You will grow so much because of it, and if it doesn't work out, there is nothing you can do that can cause Romans 8:28 to be untrue:
"And we know that all things work together for good to those who love God, to those who are called according to His purpose.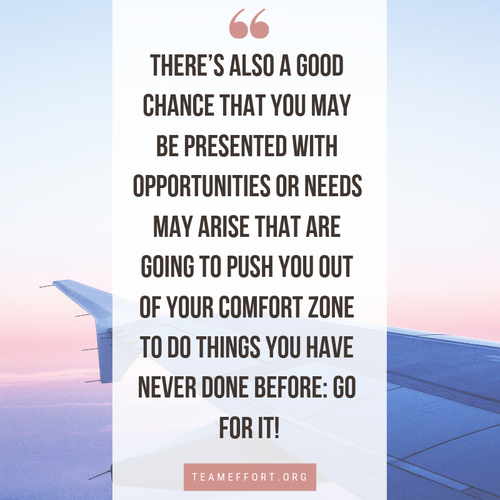 4. Be prepared for "social distraction":
When you have a team of people working together, there is almost always personalities that don't work well together – or personalities that, uh, work too well together. Especially if you are on a youth mission trip, as much as we all wish it didn't happen: drama happens.

One of the MOST IMPORTANT things you can do for yourself, your team, and the people you are serving on your trip is to do whatever you can to not get caught up in drama, don't contribute to it, and if you can, put a stop to it. The enemy loves to distract and divide Christians with petty differences and if you're tired and maybe in an uncomfortable situation on your trip, it's easy to let those emotions spill out onto other people.

Focus on why you're there: to love God, and love people. Anything else can be dealt with when you get home. If you notice someone and find yourself attracted to them on your trip, the wisest thing you can do for yourself and that potential relationship is to wait to pursue it until after summer. I can guarantee that if it's one of those "meant to be" things, if you honor God by putting Him first on your trip, you'll be blessed for it in the long run.


5. Be prepared for this weird feeling of being tired but also energized:
If you've been on a youth mission trip, you probably know exactly what I'm talking about: it's when you get to that point of being so tired that you can't go on, but somehow, at the same time, you feel like you could keep going on forever and never rest again.

Not everyone experiences this almost super-natural energy while on a trip. But it is one of the coolest feelings ever to feel God's "strength being made perfect in weakness" (2nd Cor. 12:9) I'm pointing this out in this post to say this: if you have this experience, make sure to thank God for it. Sometimes we can get so caught up in the Lord's strength and blessing on those mountaintop moments that we forget to thank Him for them.


6. Be prepared to pack light
I remember on some of those trips around Texas in 2016 that I often had a great team, but sometimes they significantly over-packed, and that can often cause problems. From losing stuff, getting your stuff mixed up with others, or, worst case scenario, someone gets sticky fingers, the more things you bring on a trip, the more things you have to keep up with.

Of course, where you are going and what you will be doing on a trip can determine a lot on how much and what you are bringing. But as a general rule of thumb, pack as light as possible, and stick to just the essentials. It can save you the headache of potentially losing things, which can also be a distraction from your purpose while on your trip.

In Cambodia I was extremely limited on what I could bring, I think I had about five shirts and four pairs of pants to last me the whole summer. And then last year I lived out of a single suitcase for 5 months. Yes, it is difficult at times when you don't have a lot, but packing light is also a very liberating experience that I highly recommend. It takes a lot of stress out of the trip as well, because you don't have anything weighing you down. Even if you forget something or need something, there is a good chance there will be some kind of store or market where you can get it.


7. Be prepared (and open) to learn and grow spiritually:
Going on mission trips was like a launch pad for my personal relationship with Christ. When you're on a trip, in a new environment, and probably out of your comfort zone, it creates a near-perfect atmosphere for God to isolate you and get your attention. Some of the most profound moments I have had where God has spoken to my heart or taught me a lesson was on the mission field. I encourage you, to throughout your trip to do whatever you can to carve out some personal devotional time with the Lord.

Doing so will help you develop a habit that you can carry home with you, help you connect with the Lord, help to keep your perspective in the right place, and keep your focus away from all the distractions you may encounter.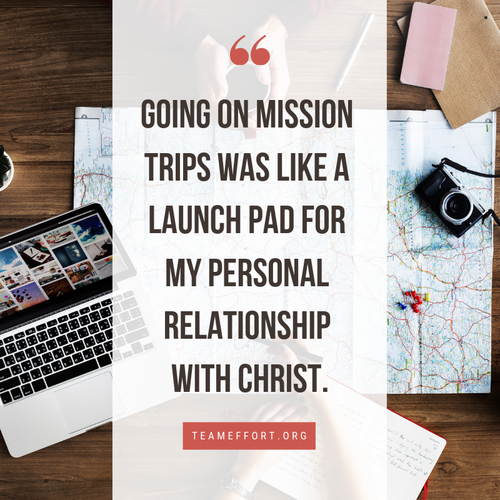 8. Be prepared for people to not understand when you go home:
(Speaking to all missions but specifically to international short term missions here) If you have an encounter with God, grow spiritually, or experience a new culture or situation, you will come home just a little bit changed for the better. And sometimes that can make it difficult to reconnect with friends or family when you get home since they weren't there experiencing it with you they might have trouble relating, and that leave you suddenly feeling very lonely. You want to share everything that you've been through and see God do! But some people just don't understand or get it.

I wish someone had explained that to me when I first started going on mission trips because I was so confused every time when I got home and went through an almost reverse version of culture shock. So what I want to share with you is that those feelings are normal, and they are ok and sometimes adjusting to home can be a process. The most important thing about coming home to not lose the lessons you have learned, but apply them to your life. I have seen people have life-changing experiences with the Lord working through them on trips, but then go home and act as nothing happened- and that is not what God wants to do with your heart. Let God continue to build upon what He started on your trip. Stay in contact with the people and friends you made while on your trip, keep your habits of focusing on God, and take that mission-trip adrenaline and apply it to your everyday life.


9. Be prepared to experience God's heart:
The last command that Jesus gave while He was here on earth was to "Go into all the world and preach the gospel" (Mark 16:15) When you go on a mission trip, you are doing just that. When you take part in being the hands and feet of Jesus and loving your neighbor as yourself, you get to see God's heart and experience a little bit of heaven here on earth. Because God's love is so extravagantly beautiful. I know I was under-prepared to experience it, and I am never fully prepared to see God's love in action through ordinary people and I am blown away every time. One of the biggest pieces of advice I can offer is to treasure all the challenges and triumphs along the way because they are going to become some of your favorite memories.
So how exactly do you prepare for all these things? The biggest piece of advice I can offer is actually to not over-prepare and never go into a trip with ANY expectations. All mission trips have so many variables and so many factors that make them unpredictable, and that's part of the adventure of it all. But also if you over prepare, you put yourself in a position where you're trying to control or influence how things play out for you and your team and in doing so you can stifle God's Spirit in leading and guiding you. For instance: if you are so caught up in the project you are working on and completing it on the time schedule you've been given, even though you're feeling a tug on your heart to talk to the homeowner, you may find yourself missing the entire reason God has you there in the first place. (This can go back to the point of being flexible) God has you there, in whatever mission field you find yourself in, for a reason. Whether that reason is to minister to someone else, complete a project, or sometimes God takes you on a trip just so He can get you alone and speak to you, you want to be sensitive to His guidance in finding out that reason and that involves letting go of your attempt to control the situation by over preparing.
The other biggest piece of advice I could offer to anyone preparing to go on any mission trip - especially when leading mission trips for teens at TEAMeffort - is to completely engross yourself in the Bible and in prayer. Like I said earlier, you don't have to be a spiritual giant to be effective on the mission field, but laying down a firm foundation for yourself spiritually is one of the biggest favors that you can do for yourself. The enemy is going to try to do everything he can to distract you and/or derail your purpose; being in a spiritually strong position will help you to be prepared for that. As it says in Ephesians 6:11, "Put on the whole armor of God, that you may be able to stand against the wiles of the devil."
I hope that these points help you if you are preparing to go on a trip, and I'm praying for everyone specifically who reads this post: that the Lord will bless you, keep you, make His face shine upon you and give you His peace as you navigate the process of preparing for your mission trip. Remember, that although serving God through missions trips is an amazing thing, that your life, your family, your school, and your work, are just as important of a mission field as the place you are taking a trip to. Live your life like a mission!
Katie spent last summer at TEAMeffort Youth Missions at
Copperhill, TN
with ten other summer staff guiding over 100 middle schoolers and high school students in missions each week. The Copperhill location is tucked in the mountains where TN, GA, and NC meet. It is also the location of the Ocoee Whitewater Center which held the 1996 whitewater Olympics with fantastic whitewater rafting and outdoor adventures.