Preparation for Internship Program
What is the internship program?
TEAMeffort's internship program is an opportunity to explore several different ministries and be a part of their summer staff. Both a domestic and international mission trip is offered to interns. During the summer months, interns will work alongside youth groups to serve the community in various ways, such as building projects, homeless shelters, and more.

What is TEAMeffort?
TEAMeffort is a mission-oriented ministry that welcomes middle and high school youth groups to serve the community and spread the Gospel.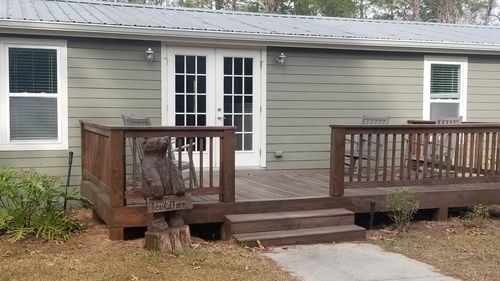 Why do you want to do the program?
When I heard about the program, it felt like an answer to many prayers. I was in the middle of the last semester of my Associate's degree. I knew I wanted to take a gap year and was looking into Christian-based camps or retreats I could be involved in. After I spoke to one of TEAMeffort's members, I knew I wanted to be involved. I would be able to explore several different ministries, build a Christian community, serve the Lord, and travel. I am excited for this program to commit myself more fully to Jesus and His plan for my life.

What are you hoping to get out of the program?
My greatest hope for this program is for my relationship with God to strengthen as I depend on Him more to lead and guide me as I guide others to Christ. I am also looking forward to building more Christian community, learning how to serve wholeheartedly, and be a bold witness of Christ.

What are you nervous about regarding the program?
This program, I know, will challenge me emotionally, physically, and spiritually. Some challenges I am expecting are being away from home, facing days of hard work, and being pushed out of my comfort zone to obey the Lord.

How have you been preparing for the program?
To prepare for the program, I have made some purchases-- some big, some small. I was fortunate enough to purchase a car in anticipation of having a part-time job while in Jacksonville. I also finished my Associate degree and have been working my last few months at my current job before I head to Jacksonville. Spiritually, I have been praying over my time there that it will be a fruitful experience.
Starting the Internship Program
After a very prolonged emotional goodbye to my sweet dog Lucy and securing my essential espresso maker, my mom, my sister, and I started our journey from Southwest Florida to Jacksonville. It was a bright sunny Saturday, a perfect day for our five-hour car ride. After a few pit stops, which added about an hour to our ETA, we got to the camp. When we arrived at the TEAMeffort site, everyone was super welcoming, making the transition a lot easier. On Sunday, we interns were able to visit a local church with some of the office staff, and it gave us a chance to become more familiar with the town we would call home for the next few months. The first few days being here have been fantastic. I have loved being outdoors-- canoeing, sitting by the lake, watching the sunrise, and have been looking forward to clear-sky nights where we can see the stars! We have had meals together as interns and office staff, which has given us time to get to know each other. We also played some games like Mexican Trains and Spicy Uno. I am so excited to see where this journey takes me. I am anticipating tremendous personal growth. Spiritually, as I rely more on God's guidance and depend on Him more fully, I know it will strengthen our relationship. I also think that this program will help lead me to where I want to go in my future, as I discover more of my strengths and interests. I am so excited about our last-minute surprise trip to West Virginia for a ski trip! I hope I remember how to ski from my days in the North Pole (Minnesota)!

During our trip, we also had time set aside for worship nights, morning and evening devotionals, and even Bible study together. It was a really sweet and precious experience of fellowship and just enjoying God's creation. I love how this internship has shown me more about what it looks like to follow Christ. Yes, following Jesus looks like serving others through missionary work and spreading the Gospel through sermons and worship, but there's also a time where we can simply enjoy time together, as brothers and sisters in Christ, and cherish His creation.
Preparation for Spring Break
For the past month, we have been preparing for youth groups to come to the Jacksonville campus for spring break! As interns and office staff we have been putting together chapel messages, worship songs, games, dances… all sorts of fun stuff for youth groups that are coming in the upcoming weeks! It has been super fun and interesting to me as a first-timer at TEAMeffort. I have really enjoyed collaborating with everyone here to make the best version of spring break that we possibly can. We spent the first month of the internship planning the messages in multiple stages. Something that was really important to me was picking the right font for the message of each day (and yes, there is only one correct font). It has been amazing to see how every one of us interns contributed to the message that the campers will hear! In this past week, we have started putting everything together for chapel, the worship songs, the games, and the messages. Another opportunity I was given in preparation for spring break was to visit some of the potential mission sites for the youth groups to serve, meet the homeowners, and see for the first time first-hand the kinds of missions TEAMeffort does. I am so excited to finally meet each camper and see how God impacts their lives through this organization. I am so thankful for the chance to serve with the students that are coming and to share the Gospel with them! My prayer for each camper is to take whatever they learn during their time here and apply it wherever they go and spread their light!