Three Youth Fundraisers that Work
As a youth pastor, I know how important it is to get the cost of trips and events down. Maybe you have a student that you know will have a life-changing experience (see TEAMeffort's post on
five ways mission trips can transform your youth
), but cannot afford to attend. Or, maybe you want to take a summer high school mission trip overseas but the added cost is a concern for the parents.
The good news is that with some planning, you can
get the trip cost down or nearly paid for
with a few fundraisers throughout the year.
Below are three I know work. Even if your church is small with a limited budget, these fundraisers can help so that some of the stress of planning can be lifted.
I absolutely love this fundraiser. It is one of the best ideas out there for a simple, affordable fundraiser that your congregation can participate in.

The simple version goes like this: take a 4x8 ft. board and pin envelopes to it with the numbers $1-$50. When people take an envelope, they will put a check or cash in the envelope equaling the number on the outside and put it in the offering one Sunday or in a donation bucket. The best thing about this is congregants get to choose how much they want or able to give. Some may only be able to give $3 at that time, but they can feel like they are a part of funding the trip for the youth.

Be intention about thanking ALL the givers.

Now, here are a few tips to make it better. The best 4x8 board to use is insulation board. It's around $15 at a hardware store. It's great because it is lightweight and can be put up for display with a trifold stand. We decorate it with colored bulletin board paper, which can be taped or stapled to it, and have youth with markers make designs on it relating to the trip.

We also decorate each envelope. Even better is to put a personal thank you message in each one. You could also add details about the trip or testimonies from past years' youth mission trips.

If you do $1-$50, you would raise $1,275! And no one gives more than $50. For larger churches, you could go higher. $1-$75 would bring in $2,850

And, $1-$100 would equal, get this, $5,050!
Of all the fundraisers, this is one of the most important ones because of how it connects the youth to the whole church and prepares them for serving others before going on a summer trip.

In fact, I would argue that a church's youth should be attempting to do this regardless of whether they make money or not.

This fundraiser is where church members hire youth(s) to do yard work, house work, or any other projects – I've even had youth help teach adults how to use computers and smartphones.

The way I do this is make an announcement in church that youth are available to help do work for a donation. I recommend around $15/hour per youth, but I also tell them that this is the youth's way of thanking the church for all their support so money is secondary.

We have people fill out a simple form with name, address, phone number, and description of work needing to be completed and tools required.

We usually get so much work that we have to stop taking jobs after two or three weeks.

Also, we typically always raise more money than anticipated because the church loves to support youth that put in effort.

When doing the work, I recommend that you pick a Saturday or school holiday like Spring Break week to do as much as you can for 6 or 7 hours. Provide lunch and participation will be higher. Another idea is to tie this into a youth church lock-in and then wake up and go out to do work – assuming they have the energy to do it!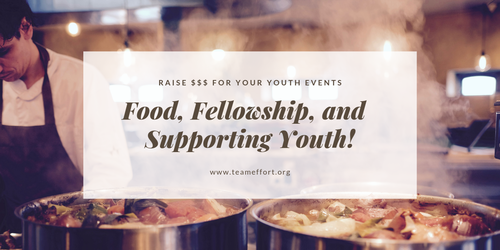 This is one I've seen non-profits pull off really well and can be adjusted to work great for a youth fundraiser.

Have members of the church compete to make the best soup. Have about 5 to 10 people or groups (maybe a Sunday School class or small study group) sign up to provide a large pot of soup, enough for everyone to try a small bowl of.

The day of the "Soup Cook Off", have a table for each participant to set up around the fellowship hall. Charge people $5 to $10 dollars to attend and they can try as much of every soup as they like. It makes for a fun meandering and fellowship event. You will need to provide bowls, spoons, drinks, etc.
To pick the winner, you could have it based of $1 votes with everyone putting money into a jar stationed at each soup table. The jar with the most votes/dollars is the winner. The other option is to make it a non-money driven competition and have select people (or everyone) pick their favorite choice(s). To make more money, add an auction in the middle of the event.

This is a good way to get people together in a fun atmosphere and involve your congregation in the thrill of a tasty competition. Plus, it supports the middle and high school mission trip! Win / Win
I hope these will give you three ideas to help make this year's youth service trip more doable financially. If you are looking for
an affordable summer youth mission trip
, I recommend you check out
TEAMeffort
. They specialize in mission trips for teens by providing great opportunities for students to serve while providing nightly chapel services with worship and messages geared to what our youth are facing. My youth look forward to each summer because of the relationships they form and the experiences they carry with them. I look forward to it because of how I see the students grow in Christ each summer.
Check them out and also feel free to share any other fundraising ideas you have in the comments below!
Building a Self-Running Youth Ministry
Sign-up below to receive: "Building A Self-Running Youth Ministry: Creating A Ministry That Will Run Itself So You Can Focus On Students"; and other helpful resources from TEAMeffort!