Preparation for Internship Program
Hello, my name is Tyson Kuyper. I am 19 years old and currently live in Jasper, Georgia which is about an hour north of Atlanta. It's hard for me to believe that I will be leaving so soon for Green Cove Springs to work with TEAMeffort as an intern. TEAMeffort is a youth missions organization that takes youth groups on mission trips around the United States. Working as an intern means that I will be helping with spring break camps, helping to prepare for and serve in summer camps, going on a domestic mission trip, working alongside TEAMeffort staff and learning from the TEAMeffort staff, and community leaders. I am very thankful that TEAMeffort has an internship program that will help grow my faith while helping me discover opportunities for my future. The Bible verse that best describes my hope for this time is Matthew 5:16; "In the same way, let your light shine before others, that they may see your good deeds and glorify your Father in heaven". God is the One who deserves all of our praise and our focus should be on Him. The purpose of serving others is not to make ourselves look good, but to bring those we serve closer to Him. Over the past few weeks, I have been getting ready by packing, praying, being mentored by my uncle, and helping daily at my church. As much I am excited about this opportunity this will be the longest time I will be living without my family, so I am nervous about being on my own. I am glad that I will be on a TEAM that will be there to support and help each other.
Starting the Internship Program
After months of planning and preparation, it feels great to finally start the internship and have the opportunity to serve those in need. As I start this program, I hope that it helps make me grow both in my faith and in my maturity. I am also happy for the opportunity to work with TEAMeffort. I love mission work and after last summer got canceled it was great to hear about a chance to serve others. While my drive down wasn't very exciting, it was my first time driving through Atlanta. It was also my first time driving to a different state on my own. While I enjoyed controlling the music and where to get lunch, I did miss the road trip atmosphere that driving with my family has. When I arrived at the camp, it was weird knowing that this would be my home for a while. It was nice to meet the other interns and the office staff in person. I am excited to serve alongside everyone for the next 5 months. Thank you to everyone who has helped me get here and to those who have kept me in their prayers. I can't wait to share my experiences and stories with you.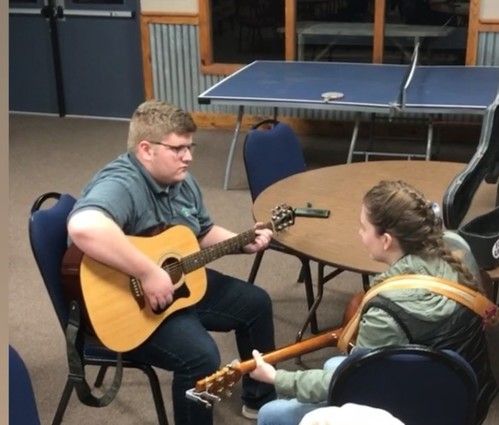 If you would have told me that I would go from swimming one day to skiing the next, I wouldn't have believed you. But that all changed last week when we went to West Virginia for a couple of days. It was a nice way of taking a break from work before we have campers show up. Growing up in Georgia, when it snows you can sled but that's about it. In West Virginia, not only did the resort make enough snow that you could ski down the mountain, but on our last day at the resort, it actually snowed. I'm not really big on snow or cold weather but it was beautiful. Nights on the trip were used as a time to fellowship and worship. Someone would share a devotion and we would sing some songs. It was nice. After worship, we all sat together laughing and talking. That Saturday we drove back to Florida sharing favorite things about the trip. And while I didn't ski much, I will never forget the time I went to West Virginia with TEAMeffort and the memories we made there.
Preparation for Spring Break
Spring break is on its way, which means we have done a lot of preparation to get ready for campers. We are doing everything from shopping to practicing worship. I am super excited to start working with campers. It will be great to get to know these youth groups and get to pour into them for the week. I am a little nervous to lead a mission site for the first time. But at the same time I am ready to start serving in the community alongside campers.

At nights I will be on the worship team for chapel. It's been fun to learn music and rehearse alongside some very talented people. I'm also excited to give a message on one of the nights. What's great about the message is it was a fully collaborative project for all the interns.
My hope for the campers is that they come here and have the time of their life. That they use this week to grow close to Christ and their youth groups. For me, camp was one of the most influential times in my life and I pray it's like that for the campers. Over the past month of being here I have grown a ton. I have grown close to God in a way I never imagined. Through weekly discipleship I have started to find who I am and what I'm meant to do. I couldn't have done any of this without the prayers and support of everyone out there. I am excited to be able to share what I have gotten out of this experience with everyone. I just want to say thank you again to everyone for praying for me. I have changed in ways that I never thought possible until I came here. So thank you again, and have a great day.